In this section, I'll try and give you some ideas for things to do, whether you're here for a weekend, a week, or longer.
WEEKEND – ITINERARY 1 – FOLLONICA
Arrive on Friday evening and go for a drink at the Bar Impero on the pedestrian area (Via Roma), then take a walk on Follonica's promenade. Walk towards the North and stop to take in the beautiful sunset, watching as the sun falls below the horizon in front of you. For dinner, book a table at Filibustiere, in the town centre, where you'll find excellent fish dishes.
On Saturday morning, after a lavish breakfast, go to Prato Ranieri in the North of Follonica, certainly the best sea area of the city. Here you'll find sandy beaches and shallow waters. For dinner, you can choose whether to have an excellent pizza in either Caribia or Pulcinella. After dinner, go and see the wonderful Museo Magma, a journey along the history of the area's ironworks from Etruscan times to today.
Once you've had a relaxing Sunday breakfast, go and visit Torre Mozza, where clean beaches and clear waters await you. Here you'll find paid parking and a bar-restaurant on the beach. You can choose between just sitting on the beach or under a beach umbrella rented from the facilities you'll find near the tower. If you stay until sunset, you'll see that it has a unique beauty.

WEEKEND – ITINERARY 2 – SCARLINO
Once you arrive on Friday evening, go straight out for a drink at Marina di Scarlino, and go for a walk among the port jetties and the masts of the sailing boats. Then go to Mama or, alternatively, to Cala Felice, where you can enjoy a meal with a memorable sunset.
After a generous breakfast on Saturday morning, go to the beach at Casetta Civinini, near Punta Ala. Here you can relax on 4km of beach, take an enchanting walk up to Punta Ala and back. This part of the gulf is characterised by white, sandy beaches with clean and shallow waters. For dinner, I advise going to Villa la Boccia or Vecchio Borgo, near to Massa Marittima and, afterwards, go and explore the small streets of the historic centre of the city, a fantastic jewel of the Maremma. Don't forget to see the Tree of Fertility, a short distance from the cathedral.
On Sunday morning, go and visit Puntone di Scarlino, stop a while and have some lunch (paninis and Tuscan schiaccia sandwiches), then go along Punta Ala and, after about 2km, follow the signs for Cala Violina. Remember that on a Sunday, Cala Violina will be packed, so I advise you to go early and if Cala Violina is too busy, then you should keep going until you get to Cala Civette, which is less well-known and more unspoilt.
A FULL WEEK
On arriving Saturday afternoon, go for a little ride to Castello di Scarlino, from where you will have spectacular views over the Gulf of Follonica (Golfo di Follonica). Have a walk round the town's streets, passing by the Town Hall and on to the main street. Alternatively, go straight to the coach, I advise going North of Follonica to Prato Ranieri, for amazing waters and sandy beaches. For dinner in Follonica, you can go to Limonaia; in Scarlino, you should book a table at Valentini or at Zero Distanze at Scarlino's Marina.
On Sunday morning, after breakfast, go to Punta Ala and stop at Casetta Civinini. Here you can relax under a beach umbrella, the sunbeds are very comfortable, and the beach is really beautiful. Come back and get ready for the evening. Go to Massa Marittima, take a pleasant walk in the historical centre and go for dinner at Taverna del Vecchio Borgo.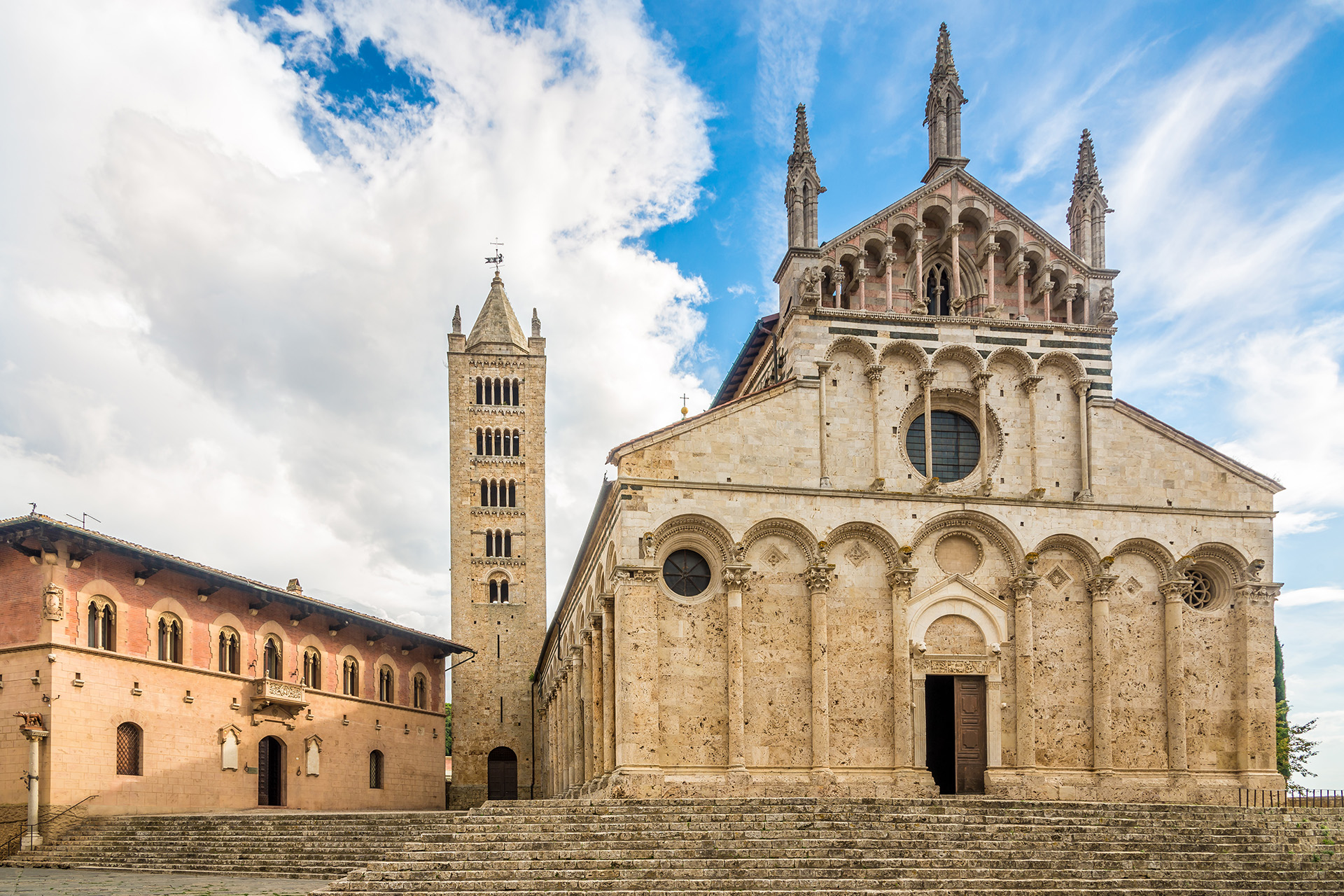 On Monday morning, go and visit Puntone di Scarlino, stop a while and have some lunch (paninis and Tuscan schiaccia sandwiches), then go along Punta Ala and, after about 2km, follow the signs for Cala Violina. Remember that on a Sunday, Cala Violina will be packed, so I advise you to go early and if Cala Violina is too busy, then you should keep going until you get to Cala Civette, which is less well-known and more unspoilt. In the evening, go for dinner at the Filibustiere restuarant in Follonica or La Baracca restaurant, right on the beach – ask for a table with a sea view. After dinner, take a delightful stroll through the alleyways of Castiglione della Pescaia.
On Tuesday, go to Torre Mozza, around 3km to the North of Follonica. Here you'll find a very well-kept beach, white sands and clear waters. The best place to stop is just to the South of the tower, which is less crowded with tourists. If you don't fancy that beach, just go a bit further along to Prato Ranieri, the best beach in Follonica.  For dinner, go to Follonica and visit Sottomarino, Bagni Cerboli or Bagni Oasi and choose from their numerous fish dishes. Then take a lovely walk along the promenade, but don't forget to get an ice cream from the Pagni gelateria, which is the oldest in the city. To finish the evening, visit Follonica's Museo Magma.
After spending the previous few days by the sea, on Wednesday you should do something different and go and visit the Baratti and Populonia Archaeological Park. Spend a bit of time with nature and see the ancient Etruscan Caves, then go to the little town of Populonia, where you can enjoy a beautiful sea view. In the afternoon, go for a swim in the Buca delle Fate.
Going for dinner at Garibaldi Innamorato in the centre of Piombino is an absolute must. If you do, I recommend the antipasti and the Zuppa Corsa. After dinner, go to the Piazza Bovio, where you can view the Island of Elba.
On Thursday, go in the direction of Castiglione della Pescaia and stop at the beach at Rocchette. Here, you can relax on this beautiful beach, overlooked by the Rocchette headland with its old observation tower. I recommend climbing the northern rock and reaching the small cove to the North, right under the tower.
Stay here all day until sunset and then go for dinner in Terra di Nello at Castiglione della Pescaia.
On your last day, Friday, go to Cala Martina, without question one of the least known coves, an untouched shingle bay.
For you last dinner here, go to Attortellati at Principina, near Grosseto. This is a typical restaurant where you can sample traditional Maremman dishes.
IF YOU HAVE MORE TIME AND/OR IF YOU'RE LOOKING FOR SOMETHING DIFFERENT
If you have more time and/or if you're looking for something different from the usual week at the beach, I recommend the following attractions.
I really recommend that you spend a day on a boat trip, maybe even a sailing trip. At Scarlino Marina you can board one of the charters you can find in port and it will take you to the Island of Elba. The best thing to do is find a sailing boat. This way, you wil only feel the wind and sea; it's a wonderful experience. Alternatively, you can hire a motor dinghy, with or without needing a licence, from Scarlino Marina.
Another interesting experience is to visit Parco di San Silvestro at Campiglia Marittima. This is an excellent way to understand how the miners lived in these areas up until a few decades ago. This is especially good for the nature found in the park.
Something else you should do is horse riding; you can make a booking at Cavallo Avventura for an excursion to Cala Violina. Setting off from Pian d'Alma, this is an unforgettable experience to ride in the waters of Cala Violina.
I also strongly recommend that you spend half a day visiting some wineries: Moris Farm winery is close by, just a few kilometres from Scarlino Scalo. This is a business with a very long history, where you'll find a lot of substance and few frills; buy a bottle of Avvoltore. You can also visit the San Cristoforo winery, between Scarlino and Bagno di Gavorrano. This is a new, small business, where I recommend you buy Luminoso. Then there are the more well-known wineries like Rocca di Frassinello, or Cantina Petra, found between Follonica and Campiglia Marittima. Wine is part of the history of our region and a tasting allows you to develop your knowledge of these places, their tastes and traditions.
I can't overlook spending a wonderful evening at the spa at Calidario di Venturina. Arrive at 7pm, take a dip the outdoor pool until 9pm, this will be really enjoyable, and you can get great pizza from the Pizzeria at the pool.
If you're happy travelling a few kilometres by car, you'll get to the Saturnia spa. Dive into the waterfalls, visit Pitigliano and then, in the evening, arrive at Orbetello and have dinner at the cooperativa dei Pescatori (Fishermen's Cooperative). If you're looking for extraordinary springs, you'll also find Bagno Vignoni and Bagni San Filippo, where you'll undoubtedly find unique experiences.
If you're coming from the North, on  the way back, take the Romito road from Rosignano to Livorno, passing by Quercianella and Castiglioncello, a road with exceptional sea views (this is the road featured in the film Il Sorpasso (The Easy Life) with Vittorio Gassman) and arriving in Livorno, travelling along the promenade and admire its magnificent past which even today can still be seen in the beautiful liberty style of the promenade. You'll also pass the famous Pancaldi baths and the recently renovated Grand Hotel, then you'll find the Monument of the Four Moors, depicting four black slaves overlooked by a statue of Ferdinando I de' Medici.
The following recommendations are suitable for families and for small children:
Acquavillage Aquatic Park – Via Raffaello Sanzio, 58022 Follonica (GR), +39 056 62 63 735 – for a fun day out
Tasso Scatenato Adventure Park – Puntone di Scarlino Via dei Cipressi 23, 58010 Scarlino (GR) +39 331 10 62 475 – tree climbing activities for all ages